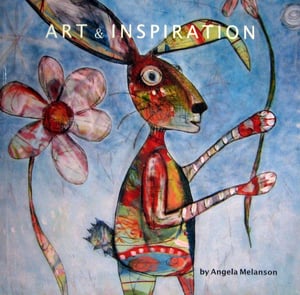 $

20.00
For all of those interested in my book Art & Inspiration who live outside of Nova Scotia but still within Canada, you can purchase the product with shipping here.
Art & Inspiration is a 40 page book (7" x 7" softcover) which follows Angela Melanson on her daily jaunts through the Acadian Forest with her dog. It is from this vantage point where Angela draws most of her inspiration ~ the native rabbits and birds as well as imagined creatures keep her mind full of ideas with a longing to understand the relationship between humans, animals and the environment.
This wee book captures both artwork and photographs inspired by the various seasons, flora and fauna found in the forest with a bit of a magical twist.
Angela Melanson is a self-taught painter and trained textile artist who resides in the Annapolis Valley of Nova Scotia, Canada with her four legged creatures and musical partner.